Return to Headlines
March/April Red Apple Winners
The Red Apple Award was established to recognize excellence in the English Learning Department. Nominations are submitted by EL staff members. Each award winner will have the honor of displaying the Red Apple Award in his/her classroom or office until the next winner is announced. Winners are honored at Staff Development Wednesday meetings as well as school board meetings.
The March/April Winners are: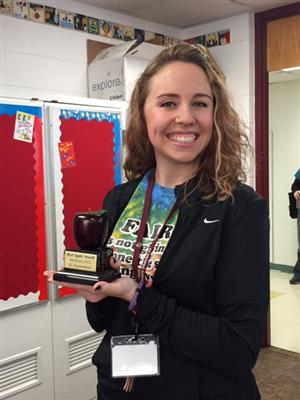 Alex Patnaude, 2/3 Multiage Bilingual Teacher, Hilltop
"Alex's passion and commitment for the students' success is remarkable and she works really hard to establish a profound relationship with the families as well. In the short time she has been teaching a multiage classroom, her professional dedication has stood out and she is one of the best teachers I have had the pleasure to work with. Alex is a great addition to the bilingual team. It is clear that she is a wonderful teacher. When I stop in her room she is always interacting with the students. She is easy to work with and always in a good mood. I appreciate that her door is always open and she is willing to help me."
AND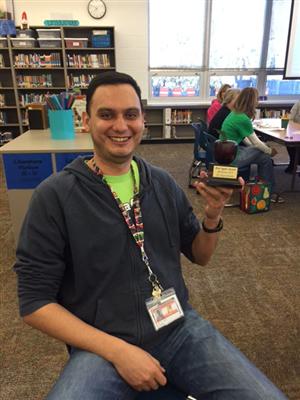 Edgar De La Mora, 3/5 Bilingual Special Education Teacher, Duker
"Edgar is an invaluable resource to our bilingual and special education programs in McHenry. He is always looking for new materials, strategies and methods to best meet the needs of his diverse students. His rapport with the students is amazing - he pushes his students to always do their best and challenges them to keep progressing even when it is difficult for them. During meetings with parents, you can see that they are at ease with their child's placement when they are in Edgar's class and they see how much progress their own child has made. Outside of the classroom, Edgar has trained the interpreters on common language to make IEP meetings with parents easier and to ensure that the language used is accurate. He is also on our school improvement team and coordinates our school website. There are not enough good things to say about Edgar, but 'the force is strong with this one.'"