Return to Headlines
January/February Red Apple Winners
Ina Obara - Hilltop Bilingual Kindergarten/Bilingual Interventionist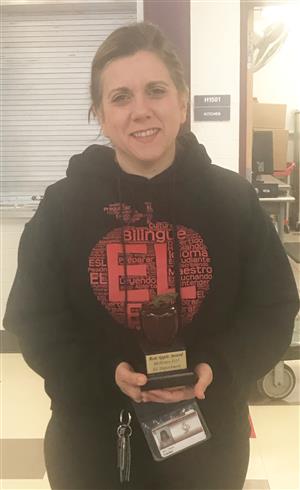 Smiling! From the minute you enter her classroom her smile and positivity is contagious. It is welcoming, and her students adore her smile and persona. This teacher embodies the true spirit of an EL staff member. Her positivity, welcoming manner, and professionalism carry her far. She is always ready for anything! Her ability to care for and coordinate students' needs is wonderful. She always puts her students first and considers the many aspects of diverse, differentiated learning techniques within a bilingual classroom.
Innovative! In this person's classroom be ready to dance, sing, and move, to help assist in all aspects of literacy learning. This teacher has a song for everything, and our Hilltop students love to hear her voice.
Caring! This teacher balances her commitment and passion for her family, students, and coworkers with ease. Every person that crosses her path will be treated with compassion and kindness. She genuinely cares about her students and makes an extra effort to get to know her students and their families and guide them to resources and community events to help her students.
It is a true pleasure to be able to work alongside Ina Obara. She is excited, passionate, and committed to doing what is best for our Hilltop bilingual students. We are excited to team with her and utilize her expertise as she begins a new adventure each afternoon as our bilingual interventionist. I am confident she will continue to engage students and promote best practices in her intervention groups.
Kevin Leor - Duker Interpreter/Translator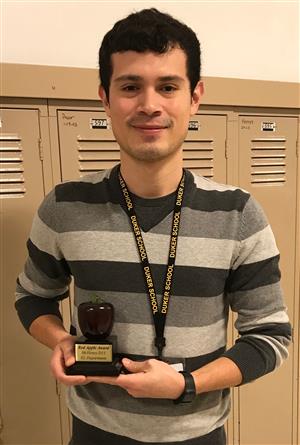 Kevin has demonstrated great skills while interpreting for our bilingual parents and families. He is always looking for new ways to improve his work and has been able to create a very welcoming atmosphere for parents and staff at any school activity, especially during IEP meetings. Kevin is a valuable member of our bilingual team at Duker.