Return to Headlines
McHenry District 15 Nationally Recognized for TechXcellence!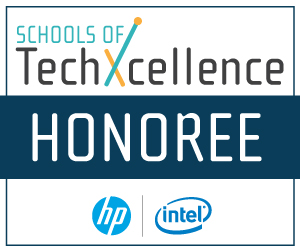 District Administration journal is honoring McHenry School District 15, 1 of 22 schools and districts nation-wide, for their innovation in educational technology initiatives as part of the Schools of TechXcellence program. This is only the second year for this national honorary designation.
TechXcellence is sponsored by HP and Intel and sets forth to recognize schools that have implemented innovative, effective and replicable technology programs that contribute meaningfully to student or operational success. The June 2018 honorees were selected by the program's judges
from numerous nominations, and reflect programs that demonstrate unique forward thinking opportunities providing students with a digital edge.

McHenry School District 15 has designed a sustainable long-term commitment to students, staff and community members fostering a digital experience and educational model. The district investigated key research findings and best practices as it related to efficacy of digital content and curriculum and
has embedded these practices in every day instruction for their students. Although no crystal ball exists on what the students of the future look like, District 15 specifically set forth on this initiative to ensure that all their students can:

* Think Critically and Problem Solve
* Apply Technology to Workflow
* Manage Projects
* Collaborate and Work as a Team
* Communicate Effectively in a Variety of Formats
* Think Creatively and Innovatively
* Employ Research Skills in Digital and Information Literacy
* Demonstrate Self-Direction and Motivation
* Effectively Assess Self-Strengths and Weaknesses

The McHenry School District 15 initiative underscores the importance of embracing technology as part of the education process for all students moving forward in the 21st century.

"What these stories tell us is that students are excited to use the latest devices and applications as part of their education, which is fueled by the vision and drive of teachers, principals and district leaders," says JD Solomon, editorial director at District Administration journal. "We hope our
readers are inspired by the integration of technology demonstrated by these honorees to launch similar initiatives in their own schools."
For more information on the innovative things District 15 is doing click here.