Phone:
Email:
Degrees and Certifications: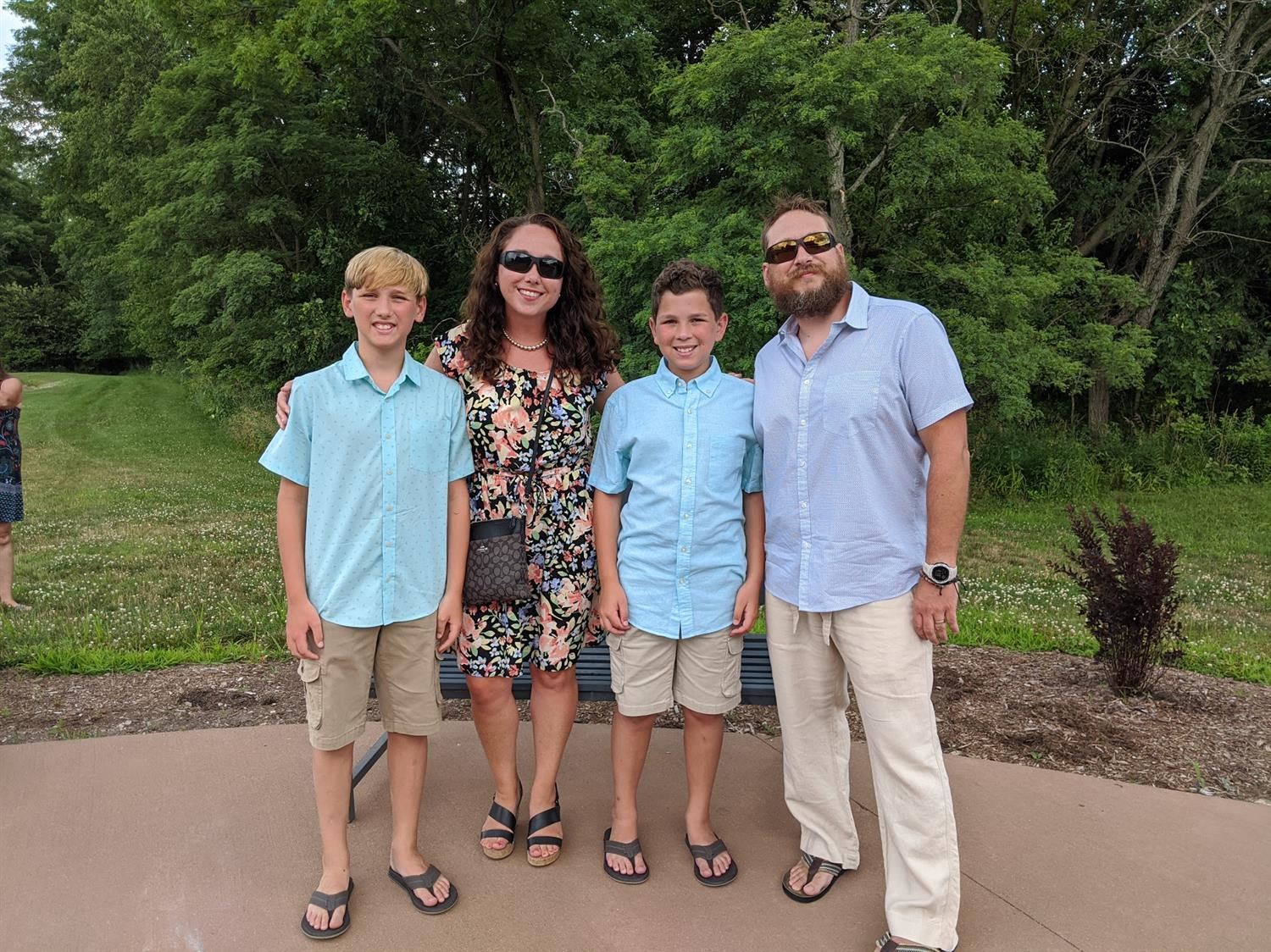 Phone:
Email:
Degrees and Certifications:
Bachelor's in Education from Illinois State University in 2001. Master's in Reading and Literacy from Benedictine University in 2015.
Mrs.

Kos

My name is Kelli Kos and I am the Reading Specialist and Read 180 teacher. I recieved my Bachelor's from Illinois State Unversity and my Master's from Benedictine University. I live in Lake Villa with my husband, two sons, and our German Shepherd. I am a self-proclaimed book junkie. I literally devour whatever books find their way into my hands and I'm a huge fan of young adult novels. I also enjoy baking, gardening, watching my boys particpate in their extracurricular activities, and I love a good joke or funny picture. I'm looking forward to working with your child and having a great school year!
Phone: 815-385-2522
Email:
Degrees and Certifications:
B.S. in Communication Disorders and Sciences, 1991, Eastern Illinois University M.S in Communication Disorders and Sciences, 1993, Eastern Illinois University
Ms.

Mears

Hi! My name is Patricia Mears, and I am one of the licensed Speech-Language Pathologists at McHenry Middle School. I received my Bachelor of Science degree in 1991 and my Master of Science degree in 1993 from Eastern Illinois University. I have been employed with McHenry District 15 since January 2001. Prior to that, I worked in a variety of settings, such as Early Intervention, Skilled Nursing Facilities, Home Health Care, schools, and hospitals. Not only do hold a state licensure, but I also maintain my Certificate of Clinical Competence from the American Speech-Language-Hearing Association.

Being a Speech-Language Pathologist (SLP) is an extremely rewarding profession. I am passionate about helping individuals of all ages communicate their wants, needs, and ideas. My role as an SLP is to diagnosis/evaluate and treat those students with deficits in the following areas: sound production (articulation), speech clarity or intelligibility, stuttering, voice disorders, listening comprehension, expressive language, language memory, auditory processing, language processing, problem solving/reasoning and thinking, abstract language (e.g., inferences, idioms, analogies, sarcasm), reading comprehension, written expression, and swallowing (dysphagia). Collaborating and consulting with teachers and family members is important if our students are to succeed academically and socially. It is a team effort! My goal at the middle school level is to teach the skills needed to make students proficient listeners, speakers, writers, communicators, and social beings.

When I am not working at MMS, I moonlight as an SLP at Centegra Health System in McHenry, Woodstock, and Huntley. This allows me to work with those individuals who have experienced a stroke, brain injury, or a neurological change. In my leisure time, I enjoy nature walks, reading, playing word games, and visiting family. I live with my two sons, who are a Sophomore and Junior at McHenry West High School, and our six-year-old, Shih-poo dog named Patch.

If you have any questions, please feel free to contact me at pmears@d15.org or at 815-385-2522.
Phone:
Email:
Degrees and Certifications:
Mrs.

Phalen

I have been a school social worker at MMS since 2014. Prior to my years at MMS, I worked for ten years in a variety of capacities in the social service field. I have a Bachelors of Science in Family Social Services from NIU, and a Masters of Social Work degree from Dominican University.

As a school social worker, I strive to be a resource for students and their families by providing supportive counseling, education and crisis intervention. I work with the entire educational team to problem solve when students are facing a challenging social or emotional situation. Referrals for outside agency services and assistance at Christmas time are available for families, upon request.

Please feel free to reach out to your child's team of teachers if you have any concerns about their social or emotional functioning within school. If you and/or the teachers feel that your child requires a little more support, I am available to discuss how we can support your child here at MMS.
Phone:
Email:
Degrees and Certifications:
Mrs.

Wetterman

I have worked in District 15 since 1998 and have been at Mchenry Middle School for the last sixteen years. I have a Bachelor of Arts from Augustana College and a Masters of Social Work from University of Illinois, Chicago. Prior to obtaining my masters degree, I worked with disabled adults in a workshop setting, with senior citizens in home care settings, provided casework services for those facing homelessness and provided crisis intervention for children, adolescents and adults via a crisis line and in face to face situations. As one of the Social Workers at MMS, I provide supportive counseling, education and crisis intervention for our students. As a member of the student support team, I work with parents, teachers, support staff and students to develop appropriate educational plans for those needing extra assistance. I provide referral information to community resources and work in partnerhip with the McHenry community to provide Holiday help to families in need.

Please feel free to contact me with any social emotional concerns or questions regarding your student. Contact me via e-mail is jwetterman@d15.org or phone at 815-385-2522.

We are here to help and are always ready to partner with parents to provide the best learning environment for each individual.
Phone:
Email:
Degrees and Certifications:
Mr.

Woodward

I have been school psychologist at McHenry Middle School since 2011. I enjoy helping students discover different ways to learn and learn how to overcome challenges. I am involved with academic assessments, response to intervention, and problem solving. I am lucky to have the chance to collaborate with our great teachers, administrators, and support staff on a daily basis. As a soccer club coach, I also get to work with students on their skills in one of my favorite sports.

To learn more about Response to Intervention at McHenry Middle School, please click on the following link:

https://sites.google.com/a/d15.org/mms-response-to-intervention/

If you would like to contact me, please reach me at rwoodward@d15.org
Phone:
Email:
Degrees and Certifications:
Mrs.

Bennett

I am the school's English Second Language teacher (ESL), and I work with students who speak other languages at home. Through small group instruction, whole classroom support, and homework support I help students improve their abilities in English. Many times students in middle school have mastered basic English skills, but still need extra support with building a more complex English vocabulary, and improving skills in advanced reading and writing. Students qualify for ESL services until they pass the ACCESS test, which is given every January to all ESL students in Illinois.


In 2007, I earned my Bachelor's Degree in English Education at Southern Illinois University Carbondale, and in 2010 my Master's Degree in Curriculum and Instruction at Concordia University Chicago. Through Concordia, I additionally earned my ESL and Spanish bilingual endorsements, which have taught me many strategies for use in the classroom.

I am looking forward to another great year helping my students grow in their language and learning. In my spare time, I enjoy spending time with my family: my husband, sons Elijah and Noah, and dogs, Ares and Athena. I love spending time being outdoors and reading.

Soy la maestra de inglés como segunda idioma (ESL) a la escuela, y trabajo con estudiantes que hablan otras idiomas en sus casas. Por instrucción de pequeño grupo, ayuda en toda clase y con las tareas, ayudo a los estudiantes en mejorar sus habilidades en inglés. Muchas veces estudiantes en la escuela intermedia han dominado habilidades basicas en inglés, pero todavía necesitan ayuda con vocabulario que es más complejo y necesitan mejorar en sus habilidades de lectura y escritura avanzada. Alumnos califican por ESL servicios hasta que aproban el examen de ACCESS, que cada enero todos los estudiantes toman en Illinois.


En 2007, obteníá el título de educación inglés a la Universidad de Illinois Sur, Carbondale, y en 2010 el título de instrucción/programa de estudios a la Universidad de Concordia Chicago. En adición a la Universidad de Concordia obteníá los endorsos ESL y bilingüe que provedo muchas estrategias por utiliza en la aula. Estoy muy encontada sobre este año escolar y ayudar a mis alumnos mejorarán en sus habilidades de iglés y aprendizaje. En el tiempo libre me disfruta mi familia: mi esposo, mi hijo que tiene dos años Elijah, mis perros, Ares e Athena. Quiero que ir afuera en naturaleza y leer.
Phone:
Email:
Degrees and Certifications:
Ms.

Samen

Hello! My name is Colleen

Samen

and I am the Reading Interventionist at

MMS

. Reading is an absolute passion of mine and my mission is to instill a life-long love for reading with the students!

This is my twenty-seventh year teaching for District 15 and my third year at

MMS

. I was a classroom teacher for eight years before I taught in the library as the media specialist for sixteen years. I'm a product of District 15 schools as I attended Landmark,

Edgebrook

,

McHenry

Jr. High and West Campus. Currently I live in Woodstock with my daughter, our dog, and our two cats.

Please email me at

csamen

@d15.org if you ever need to contact me or just want to reach out to say hello!